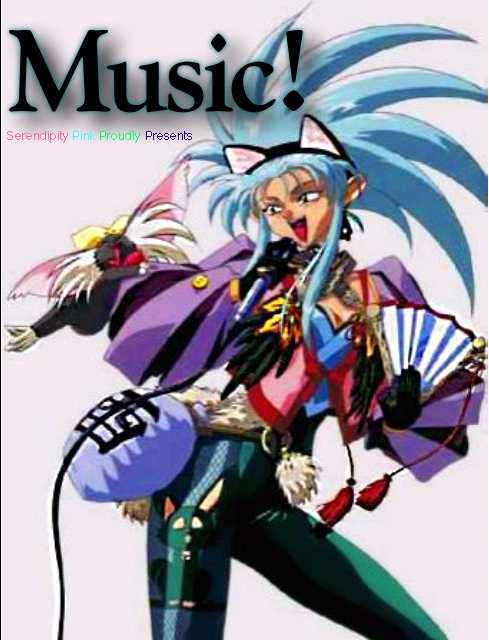 I don't own any of these songs or series names and these songs, charecters, etc. retain the original copyrights of their owners, just so ya' know.
If these sound a little grainy or staticy, turn down the volume. That should fix the problem. If there's no sound, there is probably something wrong with your connection. Try saving the midi onto your computer and then listening to it, that should fix the problem. Have a midi you'd like to donate? Please send it to me. Thanks!
---
---
Songs of Ranma 1/2
Little Date (extended version) by Coco
---
Songs of Tenchi Muyo!
Theme of Ryo-Ohki Opening theme of first OVA
Talent for Love Ending theme of first OVA
I'm a Pioneer Opening theme of second OVA
Lonely Moon Closing theme of second OVA
Pretty Samy, the Magical Girl (Mihoshi Special Ending Theme)
---
Music from Secret of Mana
---
Songs from Sailor Moon
Sailor Moon Opening/Closing Theme from the Doom Tree series
Sailor Moon Version 2 Another version of above
Alan's Theme Alan's flute music. Short, but beautiful.
Rainy day Man The song 'Rainy Day Man' from the Doom Tree series.
Rainy Day Man Version 2 Similar to the one above, but without those sour notes.
---
Music from Fushigi Yugi
---
Music from Ah! My Goddess!
My Heart I Can't Say, Your Heart I Want to Know Donated by Nathan R., as usual. ~_~ Thank you!
---
Music from Slayers
Breeze Version 2
Jamawasasenai (Give Me Reason, Version 2)
Give Me Reason Version 3, really cool
---
Music from Dragon Ball Z
---
Music from Nadia of the Mysterious Seas
---
Other Music from Other series and things
So much in here is new, I'm not even gonna' bother with the blinking text. ~_~

Purdyful Background music from Ghost in the Shell

Aoi (Blue)

Spaceship in the Dark From Project A-Ko

You're Under Arrest Opening Theme

Urusei Yatsura - Beautiful Dreamer

Lum's Pajama Theme Urusei Yatsura - Beatiful Dreamer

My Neighbour Totoro Opening Theme

Lodoss

"She Blinded me with Science" The perfect theme for Li'l Washu!!

What is it? Dern it! I know I've heard it before!! Got an answer? Please send it to me. (seifert/at/mosquitonet/dot/com)

The Way by Fastball

Olde Music Kinda cool, dunno its name though

You Sexy Thing By Hot Chocolate

Pink Panther Theme Version 2

"This Poem Sucks" (Vocal, Mike Myers) a scat song from "So I Married an Axe Murderer"
---
Collections
Game Midis (Zipped, 148 K) Collection of 59 midis from SMRPG, EarthBound, Lufia, FF III, Yoshi's Story, and the Zelda games, ready to be decompressed and listened to by Mac and PC gamers
game Midis (Stuffed, 136 K) The Exact Same archive as above, but stuffed for Mac users who have Stuffit Expander but don't have the Stuffit Engine.
Beatles Midis (Zipped, 229 K) Collection of 39 midis of popular Beatles songs
Beatles Midis (Stuffed, 224 K) Same as above, stuffed
Karaoke (Zipped, 59 K) Popular anime music, in the kar (midi with a twist) format. When decompressed and opened with Quicktime or what have you, there will be a list of highlighted lyrics for you to sing along with as the music plays. Isn't that nice.
Karaoke (Stuffed, 55 K) Same archive, stuffed.
American Pop (Zipped, 91 K) Ten popular american songs (and not so popular ones) for your listening pleasure.
American Pop (Stuffed, 88 K) What do you think? ~_~
---

Since 2-21